---
DATE

June 30

TIME

10:00 AM — 3:00 PM

WHERE

Patrice Leary Children's Classroom

EVENT

Call 712-332-7013 to Register for a time slot.
---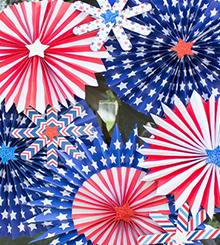 June 30 | $16 per Wreath
Register for a time slot: 10-11am, 12:30-1:30pm, or 2-3pm
Create a festive group or individual wreath out of decorative papers inspired by the Fourth of July. Paint, glue, glitter, cut, and attach papers to a sturdy wooden wreath base.
Wreaths measure 14" in diameter.
All ages, families, groups, or individuals are welcome.