Plein Air Okoboji: Workshop & Exhibition
---
Members: $160
Non-Members: $180
DATE

August 21 — August 23

TIME

10:00 AM — 4:00 PM

WHERE

Classroom C
---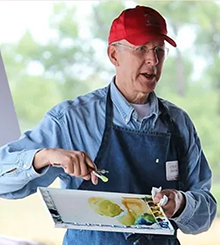 Plein Air Okoboji: Workshop and Exhibition with Guest Artist, Stephen Randall
Workshop dates: August 21 – 24; Exhibition dates: August 24 – September 30 | Opening Reception: Thursday, August 24, 2023, from 5 – 7 pm
Okoboji Plein-Air | Workshop 2023 | August 21-23 | 10:00am-3:00pm
Members: $160 | Non-Members $180
Level: All Levels | Ages 18+
Deadline to Register: August 9
Instructor: Steven Randall
Description: This event will introduce participants 18 years and older to the plein air experience of sketching and painting what they see outdoors on location in the open air. Some participants may already have the supplies they normally use and are looking to broaden their knowledge of materials and methods. Some participants may be experiencing plein air for the first time and can use the materials list provided. Some items may already be found at home or can be purchased at a local store. 
On Thursday: Delivery of participant's works between 10 am - 11 am, Pearson Lakes Art Center. Opening Reception of Exhibit: 5 - 7 p.m.
Materials list (your choice): Basic: bug spray, sunscreen, hat, water to drink, garbage bag, paper towels, and something to sit on. 
Sketching: charcoal, 2B pencil, ink pen, pastels, watercolors, paper, clipboard, masking tape.
Painting: oil, acrylic, watercolor- paper, panel or canvas (5x7 or 8x10 or 9x12 recommended)- colors (red, yellow, blue, white), medium, thinner, cleaner, easel or clipboard, sketch pad, charcoal, palette.
About the Artist: Stephen Randall typically paints rural and urban landscapes - on location outdoors in the open air or in his studio located downtown in Sioux Falls. A wide variety of regional landmarks are an inspiration for him to sketch, draw and paint as often as possible. His art is characterized by an impressionist style with broad brush strokes. Using plein air work for reference, larger paintings are produced in his studio using oil, acrylic, watercolor, or pastel mediums.
CLICK HERE to go to the Exhibit page.