Plein Air Okoboji: Workshop & Exhibition
---
DATE

August 24 — September 30

TIME

10:00 AM — 4:00 PM

WHERE

Weaver Lobby Gallery and McIlrath Landing Gallery
---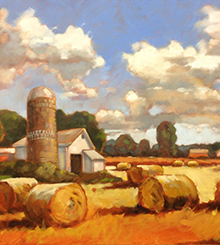 Plein Air Okoboji: Workshop and Exhibition with Guest Artist, Stephen Randall
Workshop dates: August 21 – 24; Exhibition dates: August 24 – September 30 | Opening Reception: Thursday, August 24, 2023 from 5 – 7 pm
Weaver Lobby Gallery and McIlrath Landing Gallery
Stephen (Steve) Randall, Randall Art, Sioux Falls, SD, will return to the Pearson Lakes Art Center to demonstrate his experiences in producing artwork outdoors, on location, in the open air using a variety of materials and methods.
In this unique art center show, workshop participants will have a chance to not only learn and paint alongside Randall but will have the chance to exhibit their own Iowa Great Lakes plein air work created that week. Painters of all abilities are welcome to register and be a part of the workshop and exhibition. Learn more about this workshop in our Education section.
About the Artist: Stephen Randall typically paints rural and urban landscapes - on location outdoors in the open air or in his studio located downtown in Sioux Falls. A wide variety of regional landmarks are an inspiration for him to sketch, draw and paint as often as possible. His art is characterized by an impressionist style with broad brush strokes. Using plein air work for reference, larger paintings are produced in his studio using oil, acrylic, watercolor, or pastel mediums.
CLICK HERE to go to the Workshop page.