What If? From Hank Hall's Point of View
---
DATE

August 26 — October 30

TIME

10:00 AM — 4:00 PM

WHERE

Goodenow Gallery
---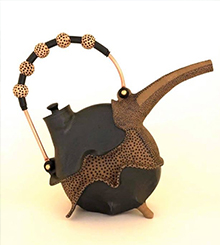 What If? From Hank Hall's Point of View from August 26th through October 30th
Join us for ART AFTER HOURS on Thursday, August 26, 2021, from 5-7 pm! 
When local artist and retired Spirit Lake art teacher Hank Hall won Best in Show at the Pearson Lakes Art Center Biennial in 2019, he also won a solo exhibition at the center! We are excited to have an opportunity to feature Hall's work once again in the galleries – and in preparation, Hall has been exploring new work in the studio:
"My work and my teaching have always been driven by asking myself, "What if?" This question sparks my curiosity about materials and processes and how to make my art personal. In some cases, the pieces in this show include new experiences for me with paper clay, raku firing, and mixed media sculpture. While preparing for the show, I was motivated by the unrelenting pandemic to draw a daily journal about the coronavirus and political unrest. I also spent hours each day immersed in clay and mixed media. The work in this show lightened my emotions and greatly entertained me, and I hope you find it a worthwhile experience to take a look at the results of "What If?"
For the latest up-to-date information on this and all upcoming exhibits, check out Facebook or Instagram pages!