Transitions: Recent Paintings by Milt Heinrich
---
DATE

May 06 — July 10

TIME

10:00 AM — 4:00 PM

WHERE

Monte Pearson Gallery
---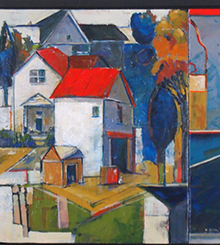 Transitions: Recent Paintings by Milt Heinrich from May 6th through July 10th 
May 6, 2021 - Art After Hours from 5 to 7 pm. 
Spending most of his career as an educator at Dana College in Blair, Nebraska (where he was Chair of the Art Department for much of that time), Milt Heinrich actively continues to work in his studio, creating paintings for private collections, public spaces, and of course – for his own enjoyment. Painting and teaching painting for over forty years has built Heinrich's expertise in both naturalistic painting styles and more abstract interpretations of the subjects he selects to paint, inviting the viewer to see the world around them in a new way.
"I spend a lot of time 'framing the world' around me. I see pictures for paintings in so many places.  Every time I am a passenger in a car I see the landscapes around me as a geometric collage of fields, roads, and buildings.  Indoors, I see the sun casting shadows on still-lives everywhere."
Learn more about the artist at miltheinrichartist.com.
For the latest up to date information on this and all upcoming exhibits, check out Facebook or Instagram pages!