Tom Gustafson: Dronescapes
---
DATE

June 15 — August 12

TIME

10:00 AM — 4:00 PM

WHERE

Monte Pearson Gallery
---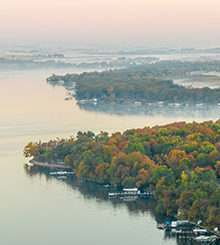 Tom Gustafson: Dronescapes
June 15 – August 12 | Opening Reception: Thursday, June 15, 5 – 7
Monte Pearson Gallery
When it comes to viewing Okoboji from a new perspective, the work of drone photographer Tom Gustafson immediately comes to mind.
In his first solo show at the Pearson Lakes Art Center, Gustafson has created a body of work showcasing the unique and interesting perspective of our stunning lakes area - documenting not only the landscape of the Iowa Great Lakes, but also the events and activity that bring Okoboji to life. 
"I use my drone to take photos at a variety of altitudes and angles to find another dimension of beauty surrounding us in the Okoboji area. The kaleidoscope of colors and shapes and backdrops will make you linger and appreciate your environment even more! There will even be a few images of popular areas you may have visited before..."
Learn more about Tom and his work at www.visionairydrone.com.