---
DATE

November 04 — February 26

TIME

10:00 AM — 4:00 PM

WHERE

Goodenow Gallery
---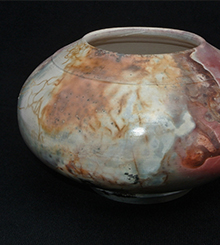 Up In Smoke Pottery from November 4th through February 26th, 2022 
Opening Reception November 4th from 5-7 PM.
An exhibition from a single pit fire. All pieces, all one of a kind, all from the same firing – including the shards – the almost necessary casualties of such a process. Each piece becomes evidence and documentation of the creative process utilized by Up in Smoke Pottery of Sioux Falls, SD.
Up in Smoke Pottery has an 85% survival rate in their pit fires, so there are minimal "broken pieces" – however, the failures will be shown along with the successes in this ancient process.
"Together with my wife, we have spent several years researching primitive firing techniques and other potters' modern-day interpretations.  I was fascinated by the colors and designs achieved without glazes and began to experiment.  We embraced the unpredictability and variations from piece to piece.  Every firing is different, the method may be the same, but results do vary." – Chad Dykstra