Okoboji Painted. A Plein Air Look At Iowa's Greatest Lake.
---
DATE

June 16 — August 14

TIME

10:00 AM — 4:00 PM

WHERE

Weaver Lobby Gallery and McIlrath Landing Gallery
---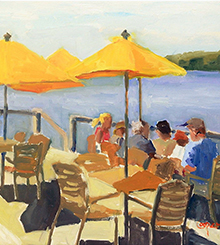 Okoboji Painted. 
A Plein Air Look At Iowa's Greatest Lake.
June 17th – August 14th Weaver Lobby and McIlrath Landing Galleries
Art After Hours - June 17, 2021, 5-7 pm | Meet the artist and join us for a glass of wine at this opening reception. 
Artist Karen Cooper spent the summer of 2020 visiting the Iowa Great Lakes area, setting up an easel at her favorite locations in Okoboji and Arnolds Park, hoping to capture the vibrancy of the area and its visitors. The project, Studies to Studio, Okoboji, blossomed to 50 small plein air studies (paintings made on location). Many of these studies will be translated with Cooper's paintbrush to larger, more complete studio-sized paintings for her gallery show.
In the exhibit viewers will have the opportunity to see the original plein air painting installed beside the finished studio work they inspired, creating a visual if/then statement, and sharing an impressionistic painter's view, as Cooper puts it, "of the magic that is Lake Okoboji."
Learn more about the artist at karencooperpaintings.com.
For the latest up-to-date information on this and all upcoming exhibits, check out Facebook or Instagram pages!