---
DATE

May 14 — August 21

TIME

10:00 AM — 4:00 PM

WHERE

Goodenow Gallery
---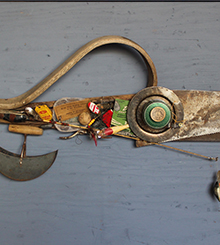 May 14th - August 21, 2021, in the Goodenow Gallery
May 14, 2021 - Art After Hours from 5 to 7 pm.
Mary Ament's work may be familiar if you have attended Art in the Park. Now, Ament's whimsical found-object sculptures will inhabit the walls of the center's Goodenow Gallery.
"Inspiration for my art pieces stem from my love of the ocean and the life forms that call it home.  The diversity and uniqueness seen in the ocean are qualities that drive the creation of each piece. Each artwork is a combination of my imagination and the use of everyday domestic objects.  I alter their original intent and use of these objects in an arrangement that attempts to capture the viewer's imagination and trigger fond memories. The result is a one-of-a-kind piece.
If a viewer stops for a moment to view and reflect on a piece I have succeeded in my work. Dory's are my fun!"
For the latest up-to-date information on this and all upcoming exhibits, check out Facebook or Instagram pages!