Celebrate the Arts! Juried Exhibition and Art Auction
---
DATE

April 27 — June 03

TIME

10:00 AM — 4:00 PM

WHERE

Monte Pearson Gallery
---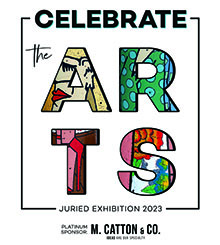 Celebrate the Arts! Juried Exhibition and Art Auction
April 27 – June 3     |    Monte Pearson Gallery
CLICK HERE to go to the Online Auction and place a bid on beautiful original art! 
The auction closes: Saturday, June 3rd at the Celebrate the Arts! Event
This special exhibition features a variety of artists and media to create a one-of-a-kind juried show to benefit the Pearson Lakes Art Center! All work selected will available for purchase through a silent auction, with bidding made available online throughout the duration of the exhibit.  This popular show has been a great way to acquire an original work of art – both for the established art collector and for those who'd like to start!
The final bid is made on June 3, 2023, Celebrate the Arts! Fundraising event with a portion of the proceeds benefitting the art center as well as the Conservation and Collections Fund at the center.