Bruce A. Morrison: "Of Moment and Place"
---
DATE

October 03 — January 04

TIME

10:00 AM — 4:00 PM

WHERE

Weaver Lobby Gallery and McIlrath Landing Gallery
---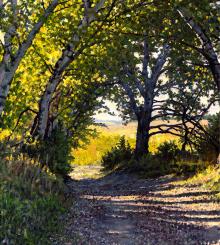 October 3, 2019 – January 4, 2020
Weaver Lobby & McIlrath Landing Galleries

Opening Reception: Thursday, October 3rd, 5 - 7 pm  |  Artist Talk at 6 pm

The Tallgrass Prairie, its hills, swales and wetlands is a familiar theme for Bruce A. Morrison. In this exhibition of paintings, drawings and photography by Morrison, the prairie remnants and locales from the region he lives and works from in his rural SE O'Brien County studio are featured.

Morrison works directly from the landscape, as well as the flora and fauna of the tallgrass prairie. "I seek out and paint, draw or photograph actual locations. I like to document as well as 'celebrate' the natural and cultural heritage of our region. In the exhibition you will see oil paintings of landscapes done in the "plein air" tradition (on location, outdoors), or in a more traditional style, done in the artist's rural studio. Exhibit visitors will also see very rich landscapes of a smaller scale and life size flora and fauna done in a laborious method in colored pencil, as well as intimate and panoramic photographs.
Morrison is the 2017 Best in Show Winner of the Pearson Lakes Art Center's Plein Air Exhibition.