---
DATE

July 24

TIME

7:30 PM — 9:30 PM

WHERE

Lauridsen Performing Arts Theatre
---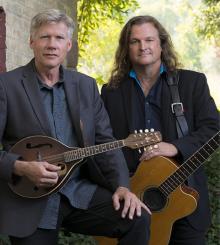 The award-winning duo of Brian FitzGerald and Martin McCormack. Switchback draws on traditional Celtic music and original Americana songs that reflect their Irish heritage and Midwestern roots. Playing an exciting mix of mandolin, guitar, and bass, their harmonies have won them comparisons
to famous duos, such as the Louvin Brothers, Everly Brothers, & Simon and Garfunkel. Music Connection Magazine said: "The words 'American Roots & Celtic Soul' only begin to describe this act, whose vocal prowess is as pure as it is unique."
"Playing everything from bluegrass to country to blues to jazz and rock 'n' roll,
with Celtic thrown in as well, Switchback has been on the road since 1993, stopping only long enough to create some great albums and DVDs."
- Rick Kogan, Chicago Tribune
Unusual, honest, heartfelt, humorous, personable, talented, spiritual, and spirited – these all describe the band Switchback.
Thank you to our generous supporters: Dennie Lippon, Larry Dixon, and Greg Gamble