---
DATE

June 20

TIME

7:30 PM

WHERE

Lauridsen Performing Arts Theatre
---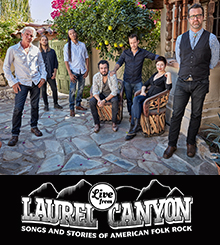 THE STORY | The Birth of a Rock & Roll Neighborhood
Laurel Canyon is located in the Hollywood Hills of Los Angeles, CA. Laurel Canyon Boulevard connects northern LA suburbs in the San Fernando Valley to artsy West Hollywood and the now infamous Sunset Strip. The Canyon housed artists as early as the beginning of the 20th century as major motion-picture companies set up production around Los Angeles. The Canyon became a sort of de facto artist community as the entertainment and nightlife industry grew. Musicians especially enjoyed the rural feel and seclusion the canyon provided but also its proximity to the nightlife on Sunset Boulevard and beyond. Fast forward to 1965, when our story starts…
Based on the success of California Dreamin' The Mamas & The Papas all took up residence in the Canyon in 1965 which almost started a movement of artists, both aspiring and successful, to be a part of this community. Follow the twists and turns of the side roads off of Laurel Canyon Boulevard between 1965 and 1975 and you'd find some of the musicians who redefined American popular music and inspired the "LA sound" of the early 70s; artists like the Byrds, Buffalo Springfield, the Doors, Crosby, Stills, and Nash, Neil Young, James Taylor, Joni Mitchell, Carole King, Jackson Browne, Linda Ronstadt, America, and the Eagles.
THE SHOW | California Dreamin' to Hotel California. Songs & Stories.
"Live From Laurel Canyon ~ Songs & Stories of American Folk Rock" is a 90-minute journey through a very special time in American popular music. A time when an entire generation of youth felt abandoned by their own culture and were searching for a sound that helped define them; a sound that shared the protest and awareness of folk music and the attitude and look of rock music. Join us as we follow these legendary artists and share stories on how they ended up in the Canyon and how this neighborhood of like-minded artists influenced the music that was created.
The show features some of the finest singers and most well-versed musicians in the country. Singers and musicians whose take on these classic songs draw from the musical history of Laurel Canyon and its vast influence.
Much more than a 'tribute' act, Live from Laurel Canyon not only performs the music you love but shares with you the stories that inspired them.  Live from Laurel Canyon is a journey through a special time in American pop music.
THE PLAYERS | Founders and featured artists
Brian Chartrand (vocalist/acoustic guitar), David Freeman (vocalist), Holly Pyle (vocalist), Todd Chuba (drums), Lamar Gaines (keys), Adam Armijo (electric guitar), and Will Gaines (bass).
Sponsored by: Perry & Teresa Pearson Foundation