---
DATE

October 27

TIME

7:30 PM

WHERE

Lauridsen Performing Arts Theatre
---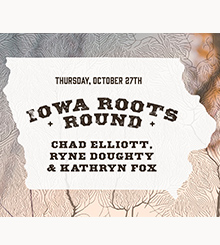 Iowa Roots Round with Chad Elliott, Ryne Doughty, and Kathryn Fox
Thursday, October 27th, 7:30 pm | $20 members/$30 nonmembers
Join songwriters Chad Elliott, Ryne Doughty, and Kathryn Fox for a rare demonstration of Midwest songcraft at the Iowa Roots Round show. All three will appear on stage together, swapping songs and stories during an in-the-round style event that is not-to-be-missed.
Chad Elliott blends folk roots, swampy blues, and soulful writing to deliver an original Americana sound. His live performances have been honed over a decade of being on the road performing more than 200 shows each year. Elliott is lauded as "Iowa's Renaissance man" by Culture Buzz Magazine. He has penned more than 1,500 songs in his career while also cultivating his skills as a painter, sculptor, illustrator, and author.
Ryne Doughty's music is deeply rooted in real-life stories of love, loss, work, and play. His stripped-down, earthy sound is directly influenced by the small, rural town where he was born and raised. The hard-working, simple living, and friendly way of life of the Midwest shines through his music that is understated yet complex and rich with beauty and realness. Deemed "fiddler extraordinaire" in Cityview Magazine,
Kathryn Fox is a DownBeat award-winning artist. She played on the Grammy-nominated track "All My Tomorrows" with Kate McGarry. She has recorded with George Benson, The Beach Boys, Pharrell Williams, Gloria Estefan, and Osmond Brothers. Kathryn has leaned into songwriting in recent years, penning hundreds of songs on the piano, guitar, and mandolin. Drawing from her love of folk, Western swing, and jazz music, Kathryn's writing varies in feel and approach, and leads with imagery and memorable melodies.