August | Summer Speaker Series | Lloyd B. Cunningham
---
DATE

August 25

TIME

7:00 PM

WHERE

Pomerantz Hall
---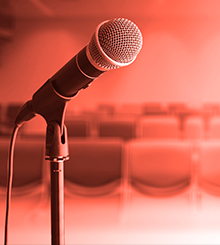 THURSDAY, AUGUST 25 | SPEAKER SERIES
The Pearson Lakes Art Center's 2022 OKOBOJI Magazine speaker series returns again this year with four summer programs featuring exceptional photography.
   This year's presentations, "Some Famous Okoboji Photographers," will kick off Thursday, June 23, with the return of Tom Gustafson, who is highly acclaimed for his drone photography.  When Gustafson was last with us he presented many of his images of the Iowa Great Lakes. This year he will be taking us to Chicago, Des Moines, and even Hawaii – along with some new photos of Okoboji - through his high-in-the-air camera.
   World-famous photographer David Thoreson is next on the schedule. Thoreson will be with us Thursday, July 7, to share images from his exceptional Okoboji collection and from his experiences sailing around the world. With those photographs projected on the big screen and narration to go with them, it will be a night to remember.
   The third program, Thursday, July 28, is one you might especially enjoy. OKOBOJI Magazine photographer Rylan Howe will share images from past issues of the magazine and a few that never made it into print. With the magazine now over 35 years old, it is sure to be a delightful step back in time as well as a kaleidoscope of all the colors that make the Iowa Great Lakes beautiful.
   Closing the season will be Lloyd Cunningham, author, long-time underwater diver, and photographer. Cunningham is scheduled for Thursday, August 25, and will present a collection of his West Lake Okoboji underwater images as well as other images of his choosing, including from his time in Florida.
   All programs begin at 7 p.m. in the Lauridsen Performing Arts Theatre at the Pearson Lakes Art Center. Admission is free and for those interested, the bar will be open.