Rural Remnants: Barns, Cribs, and Elevators by Anita K. Plucker
---
DATE

August 19 — October 30

TIME

10:00 AM — 4:00 PM

WHERE

Weaver Lobby Gallery and McIlrath Landing Gallery
---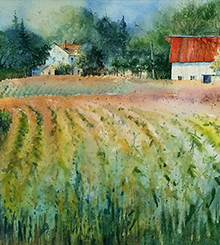 Rural Remnants: Barns, Cribs, and Elevators by Anita K. Plucker from August 19th – October 30th
Opening Reception on August 19th from 5-7 PM!
Anita K. Pluckerr's work reflects her life in northwest Iowa – waterscapes, rural landscapes, and the architecture indicative of this area. Plucker notes that she looks for spatial relationships within her subject matter and that she enjoys surface texture, varied lines, and the negative spaces within a piece. She also finds beauty in the ordinary – showcasing this in the 2019 Plein Air Exhibition at the center, where her rendering of such a subject matter became the Best in Show selection.
"I am a farm girl at heart. I find beauty in the ordinary, every day, often overlooked remnants of a vanishing way of life - the homesteads, farmsteads, and especially the buildings now empty where family-owned farms once thrived. My paintings and drawings document and bring awareness to the retired Iowa barns, corncribs, and grain elevators...... the dinosaurs in today's agricultural world. This year's focus has been to create more drama in my work with color and strong contrasts along with trying new materials, techniques, and perspectives."
For the latest up-to-date information on this and all upcoming exhibits, check out Facebook or Instagram pages!