---
DATE

August 20 — October 31

TIME

10:00 AM — 4:00 PM

WHERE

Weaver Lobby Gallery and McIlrath Landing Gallery
---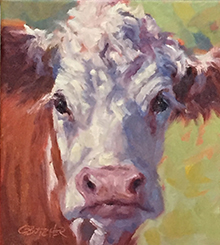 August 20th through October 31st
The paintings you see here are my view of the barnyard. As an artist who didn't grow up with a barnyard, I have an affectionate observer's perspective. I suspect my affection for these critters has something to do with books like Charlotte's Web and The Little Red Hen that I grew up on. I find the antics, expressions and shared interdependency between them and their owners to be tantalizing fodder for paintings.
I notice the twinkle in the eye, the swirl of the hair on the forehead of a new calf, the sunlight glinting on a soft wet nose or uplifted ears making a look of pure curiosity light up the face of a cow or goat or the contented chuckling of a scratching chicken. Cows are truly the centerpiece of this show, with the others playing supporting roles. I can't tell you how many times I've come to a screeching halt, when driving the dirt roads of Wyoming, just to get a few photos of a cow that caught my eye.
Of course, in Wyoming, the cows are often out in a pasture, but I have known them to be very close to home during certain times of the year. Very close. Like maybe on the porch. Or looking in the window. Or at the back door. And of course, the same goes for goats and chickens, if they have the freedom to roam. It's this familiarity around the home, and what I imagine to be the barnyard, that I love to capture. As you look at the paintings I hope your imagination is ignited as well.