---
DATE

July 15 — October 02

TIME

10:00 AM — 4:00 PM

WHERE

Monte Pearson Gallery
---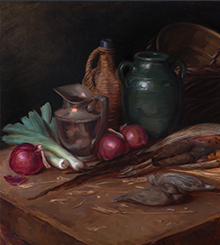 Anna Youngers from July 15 - October 2, 2021
Click HERE for the Anna Youngers "Bloom" Exhibition Catalog.
Art After Hours - July 15, 2021, 5-7 pm | Meet the artist and join us for a glass of wine at this opening reception. 
---
Driven by an innate curiosity and love of discovery, Anna Youngers (b.1985) uses her brushes and canvas to investigate a deeper understanding of the natural world.  Her sensitive and timeless depictions reveal the beauty in both the common and the extraordinary.  Youngers began her professional training early in life when, at the age of sixteen, she undertook a four-year classical apprenticeship at Pantura Studios with painters Hans-Peter Szameit and Sanna Tomac.  She credits her classical atelier training and apprenticeship with providing her a strong foundation in craftsmanship and the technical craft of oil painting.  Her working methods today continue to evolve, but remain strongly rooted in the classical tradition.   Upon completion of her training in 2006, Anna opened her studio in downtown Sioux Falls, SD, where she currently paints and teaches private classes.  
Anna has received many honors for her work including acceptance to the prestigious Hudson River Fellowship, ACOPAL Finalist, ARC International Salon, tuition scholarships from the Scottsdale Artist School, and three-time recipient of the South Dakota Artist Fellowship Grant (2008, 2012, 2018).  Her work has been featured in multiple publications, including  Southwest Art, Plein Air Magazine and American Art Collector.