Speaker Series | June 8: Jon Pausley
---
Members and Non-Members: Free
DATE

June 08

TIME

7:30 PM

WHERE

Lauridsen Performing Arts Theatre
---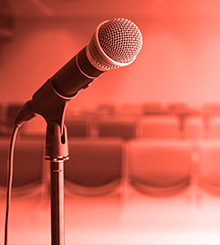 2023 Speaker Series | PUTTING THINGS TOGETHER
Lauridsen Performing Arts Theatre | 7:30 pm | Free Admission
June 8: Jon Pausley, Growing a Place for Fun
June 29: Tom Tourville, Making Things Rock
July 20: Susanne Bicknese, Creating Good Times
August 17: Jonathan Reed, For the Sake of Art
The theme for this year's OKOBOJI Magazine Speaker Series is "Putting It Together" with presentations about making everything ready each day at Arnolds Park Amusement Park; keeping things exciting at the Iowa Rock 'n' Roll Hall of Fame & Museum; creating exceptional, out-of-the-ordinary meals by Chef Susanne; and a new book about the Pearson Lakes Art Center.
Our speakers this year will share many otherwise unheard stories about the planning, day-to-day oversight, and occasional bumps in the road in the creation and operation of their public-service organizations.
Jon Pausley, CEO at historic Arnolds Park Amusement Park will kick off our 2023 program at 7:30 p.m. Thursday, June 8, with an inside look at what it takes to create and operate a lively and growing center for family fun. Most don't think about it, but the next year begins at Arnolds Park even before the old season comes to an end. There are bands to book for the green space and Roof Garden, possible additions to find for the colorful midway, and dozens of other details to take care of before the next spring opening. But that's not all. All summer Pausley and his team respond to a surprising number of daily details around the constantly expanding, multifunctional entertainment complex.
Be sure to come on Thursday, June 8, to learn about some of the most interesting things Arnolds Park has to do annually and daily to put it all together for yourself.
Then on Thursday, June 29, Tom Tourville will take the Lauridsen Performing Arts Theatre stage to share his memories about "Putting It Together" at the Iowa Rock 'n' Roll Hall of Fame & Museum.
Tourville, an Iowa treasure, was part of the early planning of the original museum and was involved in the planning and creation of the new, improved facility. He's also the author of numerous books on the various national and regional artists and bands that have played the old Emporium and Roof Garden.
Tourville is a knowledgeable and accomplished Iowa music historian who will be sure to set everyone's ears spinning with tales regarding the musicians, museum, and music that has been part of our Iowa Great Lakes history.
The 2023 program series changes from looking at historic places to making great meals — something all of us love — on Thursday, July 20.
On that evening, locally famous chef Susanne Bicknese, a popular Iowa Great Lakes caterer and food educator, will be our speaker.
Chef Susanne will share details on some of her best dishes and meal ideas as well as a few of her interesting experiences to bring together various banquets, sit-down dinners, and buffets for Okoboji businesses and families.
Chef Susanne is an innovative cook, an enjoyable storyteller, and a most personable communicator. This is sure to be an evening that all who attend will never forget.
Bringing an end to our 2023 speaker series will be Jonathan Reed, a local author, and historian.
Reed has successfully spoken at our annual OKOBOJI Magazine Speaker Series programs twice before regarding two of his earlier history books. But this time he will be sharing a subject close to home — the Pearson Lakes Art Center.
Building on his always extensive research, Reed will share with those attending that night, pages of his newly published history of the Pearson Lakes Art Center. He also will have copies of his new book with him for purchase that night.
His new book, like his earlier volumes, features a huge number of photos and numerous previously forgotten details about the early years of the organization and facility.
Staying with the summer's theme, "Putting It Together," the evening will focus on just how Pearson Lakes Art Center was put together and all that goes into the annual presentations of visual and performing arts.
All four 2023 presentations will begin at 7:30 p.m. in the Lauridsen Performing Arts Theatre at the Pearson Lakes Art Center in Okoboji.