June | Summer Speaker Series | Okoboji Summer Theather
---
DATE

June 24

TIME

7:30 PM

WHERE

Pomerantz Hall
---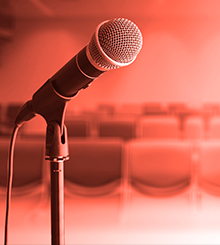 OKOBOJI SUMMER THEATRE MANAGEMENT TO SHARE POST-COVID UPDATES
THURSDAY, JUNE 24 AT PEARSON LAKES ART CENTER SPEAKER SERIES
   OKOBOJI magazine has announced a program change for the June 24 Pearson Lakes Art Center Speaker Series. Due to scheduling issues, the author of "Moon of the Spirit Lake Snow Blind" will not be available as earlier announced. 
  In his place OKOBOJI magazine's publishers are excited to announce the evening will instead feature Okoboji Summer Theater Executive Director Ruth Ann Burke, Artistic Director Stephen Brotebeck, and Director of Operations Michael Burke. The three, through a new PowerPoint presentation and personal reflections, will share details about the theatre's lost 2020 season and what had to be done to bring a limited, but exciting season back to the main stage this summer.
  "I have wanted to include OST in the speaker series this year and had discussed the possibility with Ruth Ann earlier," said OKOBOJI founder and publisher Peter W. Wagner. "When the scheduled speaker became unavailable, the OST program became an excellent replacement. It will be an exciting, entertaining, and educational e evening for all interested in OST's history and future."
  The hour-long Thursday evening presentation will start at 7:30 p.m. in the lower pf the Pearson Lakes Art Center. Admission is free and everyone is welcome.