I'll Be Home For Christmas - Tonic Sol-fa, & Shaun Johnson & the Big Band Experience
---
DATE

December 10

TIME

7:30 PM — 9:30 PM
---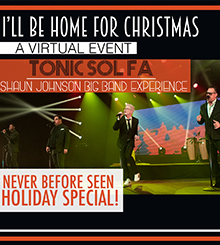 The "I'll Be Home for Christmas Tour" is coming (VIRTUALLY) to the Pearson Lakes Art Center!
Emmy Award-winning vocal group, Tonic Sol-fa, and Top 5 Billboard artist, Shaun Johnson & the Big Band Experience, have launched a combined, VIP performance filmed in high definition.
This will be an online VIRTUAL Concert.  To purchase tickets click here and navigate down to the "YOUR TOWN USA Dec 10th" link at the bottom of the page.  Click on the "YOUR TOWN USA December 10th" show, once on that page, click the drop-down box and select tickets to purchase.
TICKETS are available now for this "pay what you will," NEVER-BEFORE-SEEN, virtual event. Only 200 tickets are available.
Questions?  Call (712)332-7013.