---
DATE

August 08

TIME

7:30 PM — 10:00 PM

WHERE

Lauridsen Performing Arts Theatre
---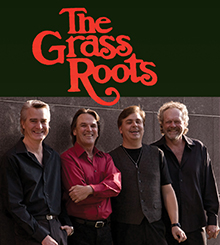 The Grass Roots
Tuesday, August 8th
     The Grass Roots are a U.S. rock band that charted between 1966 and 1975 as the brainchild of songwriting duo P. F. Sloan and Steve Barri.
     In their career, The Grass Roots achieved one platinum album, two gold albums, one gold single, and charted singles a total of 21 times. Among their charting singles, they achieved top ten 3 times, top twenty 3 times, and top forty 8 times.
Between 1967 and 1972, The Grass Roots set a record for being on the Billboard charts for 307 straight weeks. They have sold over twenty million records worldwide.
     Early member Rob Grill and a newer lineup of The Grass Roots continue to play many live shows each year. The band released a new live album chronicling their fourteen Top 40 Billboard hits titled Live Gold in 2008.  The Grass Roots may have made songs that are familiar to you even if you don't know the band. "Let's Live for Today" and "Midnight Confessions" remain the most likely candidates for Grass Roots songs you might have heard on the radio, in movies, or on TV.