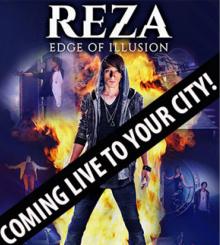 Reza is coming to the PLAC!  
More than a magic show, REZA | Illusionist infuses stage of the art production elements, masterful comedic timing, and numerous interactive & inspirational moments, allowing the audience to experience the magic first hand. Perhaps Reza's greatest secret is his uncanny ability to communicate his performance art on such a personal level.
Fun for the whole family! Tuesday, September 28th at 7:30.
Members: $30 | Non-Members: $40 | Youth (15 & under): $15
Get your tickets today by calling 712-332-7013 or go online!
Get TICKETS today!