Youth Cooking Classes | April 15 | 4th - 6th Grade
---
DATE

April 15

TIME

9:00 AM — 12:00 PM

WHERE

Pomerantz Hall
---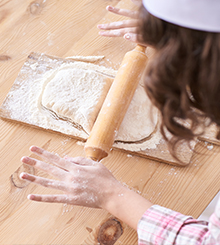 Junior Chef Cooking Class | 4th - 6th Grade | Experience Italy
Saturday, April 15th | 9:00 am - 12:00 pm
Students will experience Italy while cooking some of the country's favorites. Homemade Pasta, Artisan Bread and Salad. They will expand their culinary skills and become knowledgeable of Italian foods and their origins. 
Class size limited to 8
About the Instructor:  Cyndee Dather brings a wealth of talent with her as a Culinary Creator. Well-educated with several degrees including Food Marketing and Restaurant Management, she is also very well known locally for her talents with a spoon.
Since 2016, Cyndee has been the Food Writer and Recipe Creator for Lake Life magazine. This enables her to share her mutual love of both food and fun.
Having traveled to places such as France, Mexico, Germany, and New Zealand, Cyndee brings with her a flair of the well-traveled as she shares recipes and shows how easy and fun, cooking, baking, and creating can be.