Hands on Cooking Class | June 22 | Mexican Kitchen
---
DATE

June 22

TIME

6:00 PM — 9:00 PM

WHERE

Pomerantz Hall
---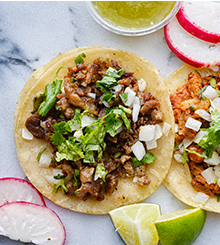 Summer 2023 | 6:00-9:00 pm | $55/$60
Hands-on Cooking Class with Instructor Cyndee Dather
Follow along as Cyndee gives step-by-step instructions to create flavorful dishes, then taste and enjoy your creations!
June 22: Mexican Kitchen
Students will be making homemade tortillas, fillings, beans, and several types of salsas. This will be an authentic Mexican culinary experience. Learn how to prepare the food that street vendors and home cooks make. Ol'e!
June 29: "Dip It"
July 20: Sensational & Simple Salads
July 27: Healthy Cuisine
August 24: Company Cooks
About the Instructor:  Cyndee Dather brings a wealth of talent with her as a Culinary Creator. Well-educated with several degrees including Food Marketing and Restaurant Management, she is also very well known locally for her talents with a spoon.
Since 2016, Cyndee has been the Food Writer and Recipe Creator for Lake Life magazine. This enables her to share her mutual love of both food and fun.
Having traveled to places such as France, Mexico, Germany, and New Zealand, Cyndee brings with her a flair of the well-traveled as she shares recipes and shows how easy and fun, cooking, baking, and creating can be.