Life Rings: Telling Stories Through Textiles
---
DATE

August 19

TIME

10:00 AM — 3:00 PM

WHERE

Patrice Leary Children's Classroom
---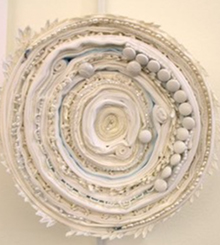 Life Rings: Telling Stories Through Textiles
August 19 | 10:00 am-3:00 pm
with an hour lunch break.
Members: $90 | Non-Members $110
Level: All Levels | Ages 16+
Deadline to Register: August 9
Instructor: Georgia Rowswell
Project Statement: The Life Rings project is textile-based artwork whose design is inspired by the concentric circles or, life rings of a tree. The workshop provides a safe and powerful place for students to share life stories through textiles and art making.
Inspiration: The science of Dendrochronology tracks a tree's life and development through its growth rings. These rings tell us not only how old the tree was but also about its life. Drought, plenty, fire, and insects are all written in the rings. As human's our lives are also layers of experience. Years of plenty and years of hardship. The simple yet powerful symbol of the circle offers the perfect shape for the Life Ring Project.
Project concept: We all assign meaning to the objects in our life. They become springboards to tell some of our big and small stories. Textiles are no exception.  For example, the clothing of loved ones passed on can bring back cherished memories as a student creates their Life Ring. A T-shirt from a special trip becomes the anchor fabric for a Life Ring story. Ties from Dad's collection paired with colors, textures, and patterns from clothing found at a thrift store, combine to make a Life Ring made of personal, meaning rich textiles and found fabrics that tell the story of an important person.
Project Synopsis: Participants bring to class personal or sourced textiles. The clothing, household linens, small objects, etc. they have gathered will be used to tell their story and create their Life Ring. Rotary cutters will be used to quickly cut textiles into strips which are then glued onto a foam base using concentric circles. Workshop participants will also be asked to write down the stories being told through their textiles.