Exploring Watercolor with a Limited Palette
---
DATE

August 08 — August 10

TIME

9:00 AM — 4:00 PM

WHERE

Patrice Leary Children's Classroom
---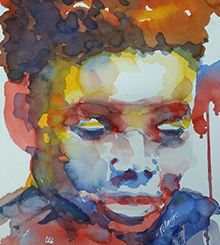 Exploring Watercolor with a Limited Palette
August 8-10 | 9:00am-4:00pm
with an hour lunch break each day.
Available for 1 Teacher Recertification or Graduate Credit.
Members: $255 | Non-Members $285
Level: All Levels | Ages 18+
Deadline to Register: July 26
Instructor: Tellagio Baptista
Join instructor Telagio Baptista in this 3-day watercolor workshop where you will learn how to transform minimal colors into impactful pieces of art. Participants will develop an understanding of tonal values with one color, working with a limited palette, and exploring signature styles. As a bonus, participants will learn how to blend hard and soft edges in hair/fur. This workshop is available for 1 teacher recertification or graduate credit. 
RECOMMENDED SUPPLIES:
SALLY'S / SARAL or any brand -  Graphite Carbon Transfer Paper PAPER: 140lb or (300lb for best results - a bit pricey) Cold Press Arches watercolor paper (preferred), sheet, pad, or block (12"x16" or more significant) PAINTS: Mars black / Alizarin Crimson (red), Cadmium Yellow & Prussian Blue. Please feel free to bring any paints you already have. BRUSHES: 1/2",1" flat / #2, #8 and #12 round, and #10 fiber or any synthetic brushes you already have ANY PHOTOGRAPHS:  Assorted photos / 8-1/2"X11" or larger in color and black & white. You can go to Kinko's or Staples to have your color prints made from your iPhone and tb&w (bond paper) to transfer onto the watercolor paper. Should you have a printer, all the better. Larger images are better to work from, especially painting a bold and loose style. WC BOARD and other supplies: Gatorboard or any mounting board (foam core) to secure your watercolor paper onto / *H pencil / *small pencil sharpener /* kneaded eraser/masking fluid/*2- water containers /* paper towels /1/2" Artist tape or masking tape/*small spray bottle/snacks & drink
The above supply list is suggestive. Please make sure to purchase and bring what you can.*Supplies provided by PLAC: H pencils, automatic/ hand crank pencil sharpeners, kneaded erasers, water containers, basic paper towels, and small spray bottles.