Pearson Lakes Art Center Collection
---
Opening Reception:
Thursday, November 8, 5–7 p.m. 
DATE

November 08 — March 02

TIME

5:00 PM — 7:00 PM

WHERE

Monte Pearson Gallery
---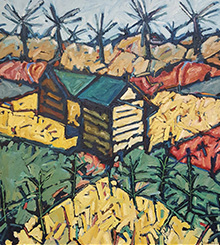 November 8, 2018 we will be giving exclusive behind the scenes tours of where the art is stored.
Come take a look at the Pearson Lakes Art Collection, have appetizers and wine and enjoy art. 
6 pm Gallery Talk, followed by the opening of the Vaults.
The Pearson Lakes Art Center's collection features a variety of media and artists, acquired by donation or through purchase by the Pearson Lakes Art Center. Recent additions to the collection include Fish Dinner II by LeMars artist Glenda Drennen and Harvest of the Wind and Marshland Song by Spirit Lake artist Dennis Dykema. The focus of the art center's collection is to acquire works by artists who have a Midwest connection, or works whose subject matter relates to the Midwest, as well as the acquisition of works of artistic significance to enhance the collection.  Other notable works in this exhibit will include What's For Sale Plus Four by Larry Rivers, Promenade by Gary Kelley, and Granville Redmond's Twilight.