Frauenarbeit - Women's Work
---
Opening Reception:
Thursday, October 11, 5–7 p.m.
DATE

October 11 — January 12

TIME

10:00 AM — 4:00 PM

WHERE

Goodenow Gallery
---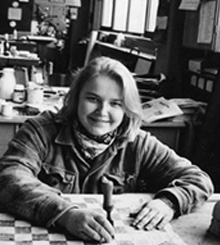 25 Black & White Photos of European Women in Traditional Male Professions and Trades
By Barbara La Valleur
 
While in Germany, Minnesota-based photojournalist Barbara La Valleur freelanced full-time for six daily and one weekly German newspapers in the area between Frankfurt and Heidelberg. Taken between 1991 and 1994, Barbara captured women at work, creating a series of photographs featuring women in traditional male occupations, with the photographs appearing alongside articles in the newspapers. Occupations included in the exhibit include: Tractor Driver (Traktorfahrerin), Actors (Schauspielerinnen), Woodcarver (Holzschnitzerin), Farmer (Bäuerin), Pastor (Pfarrerin), Potter (Töpferin), Taxi Driver (Taxifahrerin), Forester (Försterin), Firewoman (Feuerwehrfrau), Painter (Malermeisterin), Social Worker (Sozialarbeiterin), Biker (Radfahrerin), Craftswoman (Handwerkerin), Firewoman/ETM (Rettungssanitäterin), Plumbers (Klempnerinnen), and more. In reflection about the role of women today, with few exceptions, women still have a long way to go to obtain equality in numbers with their male counterparts in most professions and trades. From Edina, MN, Barbara is a contributor to tpt's website for people over 50, NextAvenue.org with photo essays focused on working artists over 50 who are teaching their art.