Chad Elliott: The Wilderman's Series and New Works
---
Opening Reception:
Thursday, October 18, 5–7 p.m. 
 
DATE

October 18 — January 05

TIME

10:00 PM — 4:00 PM

WHERE

Weaver Lobby Gallery and McIlrath Landing Gallery
---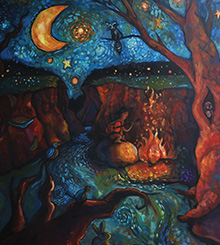 Chad Elliott brings to the center a series of fifteen acrylic paintings that were created for his children's book, Wilderman's Treetop Tales. Launched in 2014, this book is a collection of whimsical lyrics and paintings for ages 3-10 and contains both heartwarming and giggle-worthy poetry accompanied by Chad's paintings. Chad, who has been performing original songs for 20 years and is a winner of the Woody Guthrie Song contest, brings 10 of the lyrics from the book to life in the companion music album, also titled Wilderman's Treetop Tales. In addition to the featured paintings from the book, Chad will include new works from his studio. Learn more about the project by visiting www.wildermansbooks.com.