---
Summer Help Wanted: Apply TODAY!
DATE

May 30 — August 18

TIME

9:45 AM — 12:00 PM
---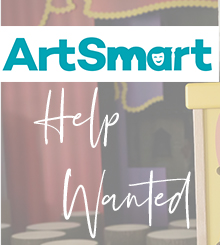 The Pearson Lakes Art Center is actively seeking candidates for Creative Play Guides to work in our newly enhanced ART SMART Gallery during the summer of 2023.
Creative Play Guides enhance the visitor experience through Arts focused play in the ArtSmart Interactive Gallery located within the Pearson Lakes Art Center. The ideal candidate will be a high-energy, creative individual that enjoys the Arts, and inspires learning through imagination.
Please see ArtSmart Creative Play Guide Job Description for additional information AND Employment application to apply.  
To apply, please send the application to:
By Mail- Pearson Lakes Art Center, PO Box 255, Okoboji, IA 51355
By Email- director@lakesart.org
Drop off in Person- Pearson Lakes Art Center, 2201 Hwy 71 N, Okoboji, IA 51355
The Artsmart Interactive Gallery's newly renovated space serves as an incubator and engine for art-making and creative exploration within PLAC and the community. With a hands-on learning approach, visitors will experience visual, theatrical, and musical art exhibits directly linked to the PLAC collections.