Holy Rocka Rollaz | Winter Games 2020
---
DATE

January 24

TIME

7:30 PM

WHERE

Lauridsen Performing Arts Theatre
---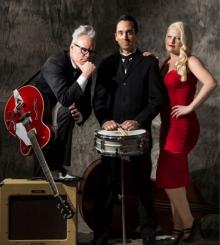 Friday, January 24, 2020  |  7:30 pm
Take an authentic trip back to the fantastic 50s with The Holy Rocka Rollaz this Winter Games Weekend!
If it's the classic early rock 'n' roll and rockabilly of Elvis Presley, Buddy Holly, Chuck Berry, Johnny Cash (and many more!) that you want, played just the way those legends played it…you have found your dream band! Minnesota's own Holy Rocka Rollaz bring back the sound, the look, the memories and nostalgia of one of America's most treasured eras. There's nothing but PURE EARLY AMERICAN ROCK 'n' ROLL about them.

EXPERIENCED & FAMILY FRIENDLY

Nothing pleases these rock 'n' roll veterans more than seeing different generations enjoy this classic music together. The Holy Rocka Rollaz play with such energy and joy that people of all ages can't help but pack the dance floor and celebrate. The trio collectively brings decades of live and studio experience to their shows and music.

Front man Mark Flora says his proudest moments come while playing the Winter Dance Party each year at the legendary Surf Ballroom in Clear Lake, IA. "Knowing that my band is regularly on the stage Buddy Holly played his last show, well, it just gives me chills," he said. "And seeing our name annually on the Surf Ballroom's marquee...well...that'll never grow old!"