---
DATE

July 07

TIME

7:30 PM

WHERE

Lauridsen Performing Arts Theatre
---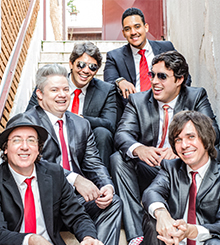 July 7, 2021 7:30 pm – Blues Beatles

Sponsors:  

Sponsor: Joe Cuttell & Greg

Blues Beatles started during the breaks of the rehearsals of Today – an original band that Marcos Viana, Flavio Naves, Lancaster Ferreira, Bruno Falcão, and Fred Barley started in 2010. Marcos, the singer, would invariably pick up his acoustic guitar and start playing Beatles songs. The other members of the band were amazed at how natural the songs sounded as if he had written them himself. The reason for this was that Marcos really identified with the songs and never imitated John or Paul. He simply sang with his own voice and from his heart.  Being blues players the rest of the band started adding their blues twist to these "break songs". One day Lancaster said: "why don't we mix these two things we love to play? We could call this Blues Beatles!" Everyone loved the idea and together they started the Blues Beatles in 2013.