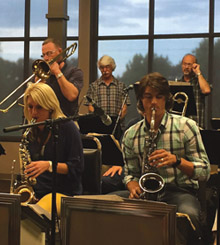 The Dick Bauman Band will be performing at the Pearson Lakes Art Center starting August 3rd through September 7th
Join us for The Dick Bauman Big Band, every Monday evening starting August 3rd through Labor Day in Pomerantz Hall!
With a loyal following, The Big Band is an 18-piece ensemble started in 1997 that plays songs by the famous bands and arrangers of the 1930s and '40s including (but not limited to): Benny Goodman, Duke Ellington, Count Basie, Glenn Miller, Tommy Dorsey, Quincy Jones, Louis Bellson, Les Brown, Sammy Nestico, Jimmy Dorsey and more. The Big Band continues to serve the Iowa Great Lakes with amazing music you simply can't find anywhere else.
$10 at the door.
Dick Bauman played the trombone professionally and led many bands, taught instrumental music in public schools and community college, and is a member of both the elite Iowa Bandmasters Hall of Fame and the Iowa Jazz Educators Hall of Fame. Dick retired and moved to Okoboji, began contacting area musicians in the winter of 1997, and the band began performing that summer. Dick tragically passed away from cancer in the second year of the band, but per his request, the group has continued ever since.