Winter Mini Michelangelo's | Grades K-2
---
Members: $12
Non-Members: $16
DATE

January 09 — April 23

TIME

4:00 PM — 5:00 PM
---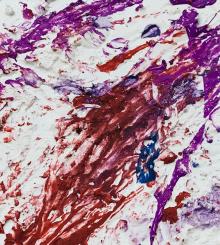 Mini Michelangelo's | Grades K-2
Two-session Classes | Thursdays from 4 - 5 pm
January 9 & 16 | Hamsa Clay Hands
Students will take a look at examples of Hamsa hands from the ancient Middle East as they learn the meaning and their protective symbolism. They will trace their own hands out of clay, form into a dish, and then add glazed patterns to finish the piece. 
January 23 & 30 | Clay Flowers
Think warmer weather as we learn to handbuild this flower sculpture! Students will roll, cut, slip and score, to create flowers in a variety of styles. Pieces will be glazed by the student, then left to dry, fire, and clear glaze and be ready to pick up in two weeks.
February 6 & 13 | Clay Dogs
Sculptors get ready for this dog-tastic class!  Students will learn slab rolling and clay construction techniques to help them create a dog sculpture from imagination or inspired by a furry friend at home.  
February 20 & 27 | Painted Winter Landscape
Create a large 18x24" winter landscape using a variety of line work on colored paper with paint and paint markers. 
March 5 & 12 | Clay Face Plates
Sculpt a large plate using hand building techniques in this two-day workshop. Learn to slip and score, roll out even clay coils and shapes to create a modern face plate ceramic artwork. 
March 19 & 26 | Alcohol Ink Jewelry
Experience how alcohol ink colors mix on metal pendants that students will hand make. After the ink dries, we will explore the beading process and add to our pendant design to create a necklace! 
April 2 & 9 | Interesting Architecture
On a large 18x24" toned paper, students will use a variety of unusual tools to "paint" and "build" their own building; collaging pieces of painted papers along the way to create their own statement architecture. 
April 16 & 23 | Batik!
Explore the process of resist painting on batik paper in this two session course. Students will create a design, learn a variety of options for resist, and dye their batik paper to create a beautiful artwork to display once completed.