---
DATE

September 08 — December 15

TIME

2:30 PM — 5:00 PM

WHERE

Classroom D

EVENT

Online Registration opens August 9th!
---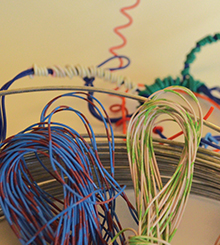 Teen Art- Grades 7-12
Wednesdays, 3-week course | Afternoon: 2:30-3:30 pm OR After School: 4-5 pm
Fee: Members $36, Non-Members $48 Register 1 week prior to course
September 8, 15, 22: Teapots Create your very first teapot on the wheel in this three-week wheel throwing course! Students will explore creating the body, spout, lid, and handle of a teapot and take inspiration from local artist, Hank Hall, on various finishes and interesting decorative additions.
October 6, 13, 20: Sculptamold Wire Animals With a flexible wire, students will learn about the term armature, what it is used for and why it's important. Then, we will develop our own animal armature sculpture, add textural paper pulp called sculptamold and paint!
November 3, 10, 17: Collage Like Eric Carle Students will take inspiration from the late artist, Eric Carle and his beloved books in this 3-week course. By creating their own painted papers to let dry, then draw and cut designs, students will collage their own illustrated story artwork.
December 1, 8, 15: Folk Art Inspired Illustration During this 3-week course, students will study an original work by the artist, Grandma Moses from the Pearson Art Foundation Collection as well as regional folk art painters. With inspiration from original works, students will create a charming outdoor winter scene using gouache paint and take it home to enjoy for the holidays.