---
DATE

September 26 — December 05

TIME

4:00 PM — 5:00 PM

EVENT

Register by the Wednesday prior
---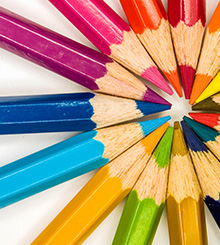 WEDNESDAYS
September 26 & October 3 | 100 Color Challenge
Teens will get to explore the world of color by creating and painting 100 different colors with acrylics on canvas. At the end of this two-day class, students will create a paper stencil to overlay over some of the 100 colors to create a one of kind artwork! 

Oct. 10 & 17 | Realistic Greens
Learn how to create different colors of green in paint with unusual color mixing! After creating a monochromatic color scale and learning about different undertones in green, students will create a botanical illustration painting using their new found knowledge! 

Oct. 24 & 31 | Underpainting Pumpkins
What's opposite orange on the color wheel? Why do complementary colors enhance one another? Students will find out the answers to these questions and more in this two-day workshop where we will be drawing real life pumpkins from still life and coloring with complimentary colors.
Nov. 7 & 14 | Still Life Color Study
Use colored pencils and learn to layer and blend with them to create vibrant artworks using fun, goofy still life creatures!

Nov. 28 & Dec. 5 | Oil Pastel Fish
Create a detailed fish using oil pastels on toned paper in this two-day workshop. Learn tips and tricks to blending, layering, smoothing with oil pastels.