Mini Michelangelo's | K-2nd Grade
---
DATE

September 09 — December 16

TIME

2:30 PM — 5:00 PM

WHERE

Classroom D
---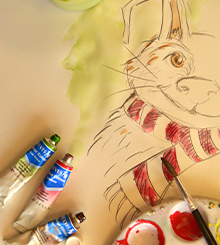 Mini Michelangelo's | K-2nd Grade
Thursdays, 3 week Course | Afternoon: 2:30-3:30 pm OR After School: 4-5 pm
Fee: Members $36, Non-Members $48
Register 1 week prior to course
September 9, 16, 23: Motorized Car Art Use unusual art materials in this 3-week course... such as a motorized car! Students will experiment with pencils, pens, colored pencils, and even paint attached to moving toy cars to create interesting marks on large paper inspired by local artist, Hank Hall.
October 7, 14, 21: Wire Clay Garden Explore ways to create different shapes of flowers with clay in this 3-week course. Students will learn to the process of slip and score to attach their clay florals, and even add a wires to create a variation of height! Pieces will be painted with acrylic paints to create a layered, texture look.
November 4, 11, 18: Painted Papers Collage In this course, students will dive deep into the collaged illustrations of the late artist, Eric Carle and his beloved books. Students will create their own painted papers to let dry, then draw and cut designs to collage their own illustrated story artwork.
December 2, 9, 16: Cozy Critters Illustration With a mix of watercolor paint and watercolor pencil, students will create cozy critter portraits, such as a bunny, bear, or more! Techniques to add texture in watercolors and pencil will be practiced and discussed to make the cutest winter critter you've ever seen!