Mini Michelangelos Age K–2
---
DATE

September 27 — December 06

TIME

4:00 PM — 5:00 PM
---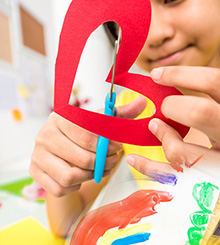 THURSDAY'S
September 27 & October 4 | 100 Color Challenge
Young artists will get to explore the world of color by creating and painting 100 different colors with watercolor on heavy weight paper. At the end of this two day class, students will create a paper stencil to overlay over some of the 100 colors to create a one of kind artwork! 

Oct. 11 & 18 | Realistic Greens
Learn how to create different colors of green in paint with unusual color mixing! After creating a monochromatic color scale and learning about different undertones in green, students will create a botanical illustration painting using their new found knowledge! 

Oct. 25 & Nov. 1 | Underpainting Pumpkins
What's opposite orange on the color wheel? Why do complementary colors enhance one another? Students will find out the answers to these questions and more in this two-day workshop where we will be drawing real life pumpkins from still life and coloring with complimentary colors before we apply actual colors for a more realistic look. 

November 8 & 15 | Warm and Cool Color Studies
Find out what warm colors vs. cool colors are in this two-day workshop where we will be using a variety of media to create warm vs. cool artworks! 

Nov. 29 & Dec. 6 | Oil Pastel Fruit & Veggies
Oil pastels are called paint in a stick… so join us to paint with sticks as we observe actual fruits and veggies under spotlights to draw and paint them as we see using our built up color knowledge.