---
DATE

September 07 — December 14

TIME

2:30 PM — 5:00 PM

WHERE

Classroom D

EVENT

Online Registration opens August 9th!
---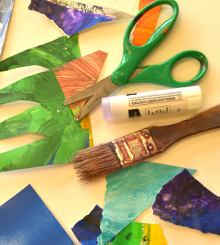 Art Club-Grades 3-6
Tuesdays, 3-week course | Afternoon: 2:30-3:30 pm OR After School: 4-5 pm
Fee: Members $36, Non-Members $48
Register 1 week prior to course
September 7, 14, 21: Wheel Thrown Vessels Students will learn the basics to wheel throwing in this 3-week course, with a focus on centering and cylinder forms. Once pieces have been created, we will take inspiration from local artist, Hank Hall by painting our pieces with non glaze finishes such as acrylic and puffy paints!
October 5, 12, 19: Wire Animal Sculptures With a flexible wire, students will learn about the term armature, what it is used for and why it's important. Then, we will develop our own animal armature sculpture, add textural paper pulp and paint.
November 2, 9, 16: Painted Collage Art Students will take inspiration from the late artist, Eric Carle and his beloved books in this 3-week course. By creating their own painted papers to let dry, then draw and cut designs, students will collage their own illustrated story artwork.
November 30, December 7, 14: Holiday Animal Illustration Students will create cozy critter portraits, such as a bunny or bear using an illustrator's favorite medium, Gouache paint! Application of the paint, layering, and illustration layout will all be discussed to help young students achieve a cute illustrated winter animal!